This Month's HipBites

Do A Boudoir Shoot

Doesn't it seem to you like everyone's naked on the internet these days? Does to me! Apparently shirts are even optional at parties. It's all too much for me...

However I do think there is a place for beautiful - elegant - photography celebrating the body. Continuing our theme of "bucket list adventures", this one seems right for the holidays when you're thinking about making a gift for someone else - or for yourself. Here's what I did, and how you can too!
#xoSyl

Over the years, I've met hundreds of photographers. But until I met Lori Berkowitz and saw her images, I was not convinced it was something for me. The potential for it going wrong, oh so big! But when I saw Lori's galleries, I was convinced. Lori has a midtown studio in Manhattan and she's let me know that if you need her to fly to you, that can be custom-arranged as well. When I arrived, the music was going, and nibbles were abundant, a caterer was dropping edible flowers into glasses of bubbly. Everything felt light, airy, and fun. I admit I may have had a couple to steel my nerves before the shoot.

If you do the Full Monty package (this links to pricing) with Lori, every detail is handled for you. A rail of fresh lingerie was mine to rifle through, with an assistant to dress you. A makeup artist with the entire range of makeup did touch-ups for me, although you could certainly get a full make-up look.

Lori takes you through all the poses. If it's been awhile since your last Angel catalog shoot, sic, she tells you exactly where to stand and where to place your hands, where to look and what to do. We shot five different looks with about seven variations on each look in minutes and the speed at which it took place made me comfortable. When it's moving that quickly, there isn't time for you to obsess. Incidentally, here's everything you need to know to prep for this kind of shoot.

What Lori seems great at, is making women of all shapes, sizes and ages, look great. As you all know, I rarely highlight one service, one person, but this strikes me as something for everyone. If you're in a relationship, your partner will love these photos. And if you're not, you will love capturing this aspect of yourself for future posterity. I asked Lori to extend her Black Friday deal of 25% off so it's good for 24 more hours through 12/3, code BF2014. And now, a gallery (for all of you who only read this far to get to the racy photos...



Boudoir Not Your Thing? Check out my new fave photo app...Instantly Framed
How many of your Instagram or iPhone photos will die a slow digital death? Wouldn't they be better printed??! That's what I thought. I recently discovered Instantly Framed, a 3-easy step iPhone app that physically frames your pics from Insta, Facebook, and your iPhone/iPad. You click into the app. They print, frame, ship, you do nothing but ogle that selfie where you think "damn I look good!"

It becomes an archival print on photo luster paper placed behind an acid-free mat in a 12"x12" sustainably-farmed walnut wood frame, and includes free 3-day shipping anywhere in the continental US for just $65. Nope for you, $55! Because I loved them so much they're also giving you a discount code: CIHIPGUIDE10 gets you $10 off each order, expires Monday, Dec. 15.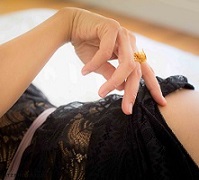 ~above~ sorry, this is as close to breaking the internet as I'll ever get. Lori's lovely photo of my hip.
All rights reserved. All images courtesy of Lori Berkowitz.



HIPGUIDE'S INSTAGRAM

Are you following me on Insta?
Why the heck not? I might even Like all your photos back!