This Month's HipBites

Volcanoes, Glaciers and Hot Springs

Those of you who follow me on Instagram know that I recently went to Iceland and had some crazy adventures. While I didn't have time to fly into the erupting volcano Bįršarbunga (yes this is something media and scientists can do if you want), I did experience the huge spectrum of hot and cold that Iceland's unusual thermal waters and glaciers offers. It's incredibly close to New York (5 hours), being about one hour northwest of London, and really worth seeing. Here's what I did. And how you can too.
#xoSyl

Gķgjökull Glacier
Gķgjökull glacier is one of two glacier outlets from the volcano Eyjafjallajökull. Try saying any of that five times fast. (Eyjafjallajökull is the one that erupted in 2010.) Now the way to see Iceland is either off-roading or via helicopter. The terrain is extraordinary and at once rough and beautiful. If you picture stark iced mountains, volcanic valley floors, driving through rivers, and 100 degree geysers, you have the right idea. When we went out here, our Amazing Tour guides took us in two completely refitted Ford Excursions, a car whose hood is higher than me in heels (and I'm not short). The wheels alone weighed 250 kilo a pop (551 pounds) and I tell you this because every year, some unsuspecting tourists decide to rent and drive themselves, and get stranded. And every year, they lose a few tourists. So don't do that.

Go with these guys (their info below) and this is off-roading at its very best. Driving onto the volcanic area, through the rivers and black earth and onto terrain that only vehicles like this can handle. The roads change weekly. Iceland's weather is notorious for being all four seasons in minutes. I highly recommend waterproof boots with lug soles for this as well as waterproof jackets. We had Canadian Goose and weren't sorry.

When you get to Gķgjökull, you are literally watching the earth change on the black valley floor as the overflow comes off the mountain. Day to day this area is different. I brought a Canon Rebel SL1 and other folks with us had multiple cameras. Because the terrain is bumpy and rainbows come and go, you will want true camera equipment for the panoramics you can capture here. Now, technically my camera wasn't "waterproof" but I took it out on the glacier, in the rain, and it held up, as you can see from the photos. I also happened to get to road-test A. Lange & Söhne's Lange 1 Moon Phase through rain, sleet, steam and ice. (More on that on the right.) Hike the nearby waterfall and have lunch at Hotel Anna on the way out.
Hotel Anna for lunch
Moldnśpur, 861 Hvolsvöllur
+354 487 8950


Helicopter into the Blue Lagoon
The Blue Lagoon is part of Iceland's naturally occurring thermal waters. It's fascinating because due to the country sitting on volcanoes, the nation's energy is super green. Five geothermal plants provide a little over 25% of the nation's energy including heating and hot water for over 85% of all buildings in Iceland. (Hydropower provides approximately 74% of electricity and they use only 0.1% from fossil fuels.)

Now that said, the Blue Lagoon is basically a giant swimming pool. Said to be good for skin, this is a thermal water spa, where people come to hang out in the water, drink cocktails acquired by swiping your waterproof bracelet at the swim-up bar (they limit you to three and you'll see why when you're dizzy later!) and generally soothe their skin.

Helicopters on Iceland have an advantage as they can land nearly anywhere so we took a tour which allowed us to see a unique view of Gullfoss (Golden Falls...you will get sick of rainbows you'll see so many), Parliament Fields where the European and American tectonic plates are actually shifting apart, and to land at various geysers. A helicopter tour will allow you to land at Blue Lagoon and then to fly back to your hotel, as well. #bestcommuteever. Oh, and one tip, put a bucketload of conditioner in your hair before you hop into the Blue Lagoon. The minerals will do a number on it. Trust me on this one. We stayed at the Ion Hotel, which I genuinely feel looks like something out of a Bond movie. All that's missing was a villain petting a cat wearing a diamond collar.
Hotel Ion
Nesjavellir, 801
+354 482 3415

Hot Springs at Landmannalaugar
Though the Blue Lagoon is a must, there's no starker contrast than an isolated spot with no electricity yet with natural volcanic hot waters coming up from the earth right next to snow-capped mountains. Nowhere is this more evident than Landmannalaugar. We drove out here and in 5 degree weather stripped down to bathing suits and jumped into 85 degree waters. It is very surreal to step out of snow boots onto actual ice and then find yourself sitting on hot earth. While we were doing this, it started to sleet.

Imagine small balls of ice hitting your face while you're sitting on your hands because the earth shifting under your bum is a bit too hot. Digging your hands into the sand unearths truly hot soil. There is steam rising around your face and ice accumulating on the wooden dock. The nearest cabin is the unheated one where you will later have your box lunch. Probably the best polar bear club I ever joined.
Amazing Tours Iceland
http://www.amazingtours.is/
+354 517 4455

I hope you love your Icelandic expedition!

A piece of the action...
Can't make it to Iceland but want a piece of this experience anyway? The less-smelly option? Scoop up Icelandic band Of Monsters and Men's CD My Head is an Animal. Or for the challenging option? Try the questionable Icelandic specialty, fermented shark, aka Hįkarl

~below~ Off-roading the rivers of Iceland, with a thank you to Canon for equipping me well. For more photos shot on their Eos, hit me up on Instagram
All rights reserved. Image copyright Syl Tang.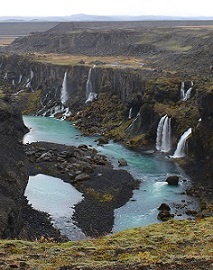 ~above~an unmanipulated photo I shot of Iceland on a Canon Rebel SL1. It really looks like this!
All rights reserved. Image copyright Syl Tang.



A special thanks goes to A. Lange & Söhne who let me road test a dream watch, the Lange 1 Moon Phase, during this trip. It was appropriate since Lange made some of the first aviation watches including the B-Uhr and they are launching the gorgeous Terraluna this year. Iceland is where some of the first moon explorers practiced so it stands to reason their watch held up beautifully in the toughest and most austere terrain in the world.