This Month's HipBites

Arctic Expedition

Those of you who follow me on Twitter and saw my pics know that I recently went up to Alaska to the Iditarod and to the Arctic Circle. I could probably write a thousand articles on Alaska alone; that's how much there is to do in our 49th state. But for the sake of sanity, this newsletter will talk about just a few bucket list experiences. Here's what I did. And how you can too.
#xoSyl

Arctic Circle
The definition of the Arctic circle is simply this; it's the point on the northern part of our planet at which the sun can remain continuously above or below the horizon for 24 hours. Let's just say, it's far up there! There's a long list of famous (and some just infamous) Arctic expeditions but there's no reason for you to meet the terrible fate of the famously ill-prepared Sir John Franklin. (I would never send you anywhere you'd starve!). Rather, fly to Fairbanks (which is actually just three hours from Seattle) and book a tour through the folks at Northern Alaska, which I assure you is a bit intrepid still. They'll take you up to Coldfoot, the last truck stop on the Denton Highway. There's truly nothing there, but you, nature, and the guy who runs it, Jason, who of course has a dog sled team, makes rocking soup for the truck stop cafe, and has been known to make his own beer. Once there, stay overnight to see the Aurora Borealis. Fair warning though, Coldfoot is small. It does not have air traffic control, because there's...just you flying in. So if small planes and no-instrument flying is not your thing, take my Aurora option below. But for those of you looking for the frontier...it doesn't get any more real than this.
Northern Alaska Tour Company
800 474 1986
907 474 8600

Aurora Borealis in Fairbanks
The Aurora Borealis occurs when electrons enter the earth's upper atmosphere and collide with oxygen and nitrogen atoms. The colour depends on how high in the sky it occurs and which atoms are struck. If you've never seen it, this is a must. This is a gentle way to see the Northern Lights. Book yourself into Pike's Waterfront Lodge in Fairbanks and then head out to Logan Rickett and Mok Kumagai's Aurora Borealis Lodge. They also have overnight accommodations but it can be in high demand. As well, Pike's has a watering hole full of local colour. There's the Alaska Distillery's full range (try the salmon Bloody Mary) and the shoot-em up arcade game (though no one plays it). And of course world-famous mushers hang out here. (We ran into our pal Dave Monson.) I highly recommend bringing a great camera and tripod. The eye can only see about 1/8th to 1/4th of the light, and you'll want a manually-adjustable camera that can hold a long exposure per photo (ten seconds or so) to capture the lights.
Pike's Waterfront Lodge
877 774 2400
Aurora Lodge
907 389 2812

Iditarod
The Iditarod is the 1059 mile sled dog race from Anchorage (Willow really) to Nome. It's fascinating because normally quite cold and a test of endurance, 9-14 days of staying awake. I was very lucky and got to mush with Dallas Seavey and his winning dogs just days before he won this year's Iditarod. I took a 20-second video of me doing that and you can see it here. (Yes I am holding my phone and the sled at the same time.) If you can get there before mid April (it got warm fast this year), you can go out with Salmon Berry tours and have them take you on a ride without you having to learn how to mush. And you can take a pass on the -70 degree temps and sleep deprivation of the Iditarod.
Salmon Berry Tours
888 878 3572

I hope you love your frontier expedition!

A piece of the action...
Can't make it to Alaska but want a piece of this experience anyway? If you've read Winterdance by Gary Paulsen, a guy who just up and decides to go do the Iditarod, you know to take the backcountry seriously - regardless of winter or summer! So here are the companies I geared up with. I took

Life on the back of a dogsled.
All rights reserved. Image copyright Syl Tang.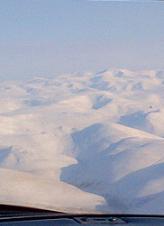 ~above~view of the Arctic Circle from my tiny plane.
All rights reserved. Image copyright Syl Tang.