This Month's HipBites

Cliff-dive the Caribbean

Just under four hours away, the Caribbean island that was such an inspiration for Johnny Cash and Jimmy Buffett, origins of Bob Marley and UB40, remains the island destination for those seeking history and culture with their sun. There is so much to do there but it was the cliffs that really took my breath away. In this issue, three spots you must jump or swing from. Here's what I did. And how you can too.
#xoSyl
PS I'm going to the Iditarod in a couple of weeks. Want live updates? Follow me on Twitter @hipguide

Cliff-dive Negril
Tensing Pen, Negril
Gorgeous and unfettered is the idyllic Tensing Pen. Named for the Everest climber, this secluded series of cabins takes advantage of the natural landscape of volcanic rock and foliage. Just seventeen room types with low season starting as low as $135, the cliff diving and sunsets at this boho hotel are to die for. There's a stunning bridge from which you can jump into the blue waters, but also a rock ledge just for this purpose.
800 957 0387
876 957 0387


Rick's Cafe
A famous cliff diving spot and location from which to watch the sunset, it does get crowded and commercial. You can watch the sunset or jump off the designated spot if you don't mind the many onlookers. There's also local 'divers' working for tips so be careful who you cheer on as the expectation is you will tip if you incited someone to perform for you. Jumpers can make their way into the small cave in the water.

Tarzan the South Coast
YS Falls and Black River Safari
The movie Cocktail may have been filmed in Port Antonio but YS Falls is really accessible. Here you can Tarzan-rope swing/drop into the falls (with a guide), simply swing over the falls, snap photos in the cascading waters or zipline through the rainforest and over the waters. Expert navigators even know how to pose you for the pictures, not just navigate those rocky walks.
876 997 6360
876 634 2454


Another two 'musts'
Glow in Falmouth
Glistening Waters
One of just three places in the world, Oyster Bay lagoon glows with phosphorescence. Go at night and take a swim in the odd mixture of cold and warm waters and watch the water on your body turn you into a temporary human glow stick. $20 buys you the hour long tour.

Bobsled Ochos Rios
Mystic Mountain
This rainforest triple 'threat' is a stunning chair lift ride up to a 1000m gravity driven bobsled course to a 5-platform ziplining course. Those who've dreamed of evoking Jamaica's Olympic team by pilotting their own bob sled will love it. Even scaredy cats do well as you control your own speed, so never fear.
876 974 3990

Now you...
Meet the People Programme
The Jamaican Tourist Board has played matchmaker for over 4 decades, and can connect visitors with locals who have similar interests, be it soccer, reggae, education, cooking and so forth - at no cost to you. If you're interested in local culture, contact the JTB in advance to see if they can arrange some interactions for you once you've booked your trip.
info@visitjamaica.com

Getting Around
If you want to see all of the places we've mentioned, we strongly advise getting a driver. Even if driving on the left side of the road is how it's done where you are, you won't know how to get around and it is both much safer and easier to hire a car. Here's two drivers we worked with whom we had great experiences and whom the JTB trusts.
Ricardo Goulbourne
876 404 1720
Richard Russell
876 846 2912

I hope you love your Cocktail moment!

A piece of the action...
Can't make it to Jamaica but want a piece of this experience anyway? Sure there's Bob Marley but Jamaican music offers so much more. Get ready for your trip by listening to scat (the predecessor to reggae), reggae, soca and dancehall (the kids updated version of reggae meets electronic beats). Pick up records from Toots and the Maytals, Sean Paul, the dancehall king, Shaggy, Beanieman, The Jolly Boys who do a fun remix Amy Winehouse's 'Rehab'. Don't forget the classic Very Best of UB40. And if you make it to Kingston, be sure to stop in to the Music Mart to pick up some mento CDs, a type of music exclusively Jamaican.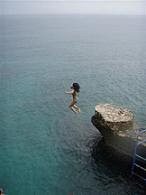 above A cliff diver at Tensing Pen in Negril, Jamaica.
Photo copyright of HipGuide Inc

Want to advertise in these emailed articles? Contact us for HipGuide ads at: sales@hipguide.com