This Month's HipBites

Camel and Dune Rides in the Desert

It was so cold in NY last week. Ooof snow. So for this last HipBites of the year, I couldn't help but think of the desert. I'm sending you camel-riding for those of you who secretly think you're James Bond or Lawrence of Arabia (RIP Peter O'Toole). The other is dune driving (or riding, as a pro will drive your car.) I had to do it. Here's what I did. And how you can too.
#xoSyl
PS stay tuned for skeet-shooting, ziplining, falconing adventures...

45 minutes from the Dubai airport is a fantastic resort called Al Maha. It's set inside the Dubai Desert Conservation Reserve of 225 sq kilometres. Surrounded by oryx, Arabian horses, camels, it's 42 breath-taking stand-alone "cabins", each with their own temperature-controlled infinity pools, not to be missed. But the best part are the two activities I'm recommending.

The 4 x 4 drive in the desert is an early morning activity through the big red sand dunes east of the resort. It's about 90 minutes long and I felt it was a real life roller coaster. The angles your all-terrain car hits, and the way it feels as it slides sideways down the sand is both a marvel of engineering and nature all at once. All I can say is, don't eat too much before you go, and bring your camera. While we were out, we saw poisonous plants, one of the kinds of deadly Arabian snakes, a family of camels and we stopped to get out and take photos from some of the highest dunes in the area. Not for the faint of heart, we also had a flat tire and got to see our guide change a tire, on a crazy incline, in sifting sand. Pretty impressive.

The camel ride is much tamer for those of you for whom the above paragraph induced wishes for Dramamine. An afternoon activity, it's a twenty minute ride on the back of a camel out to the dunes to watch the sunset over a cold drink. Afterwards, the camels take you back to the resort, with the whole trek lasting about 90 minutes. The animals are even-natured and though quite large, the gentle rocking is not alarming. Every once in awhile their competitive nature gets the best of them, and one will attempt to trot alongside another in a "race", but for the most part, this activity is super gentle. Both these activities are available year-round with the start-times changing a bit each month due to the solar cycles. For guests not staying at the hotel, per person per activity, it's 200 United Arab Emirates Dirham which at the time of this article is about $55USD.

I picked these two activities as my favourite but there are a ton of other things to do out in the UAE. Dubai is an amazing area for adventure travelers (sea kayaking, wreck diving, it's all here.) At Al Maha specifically there's also horseback riding for experienced riders, archery, a Ghaf tree walk, a spa, and falconry (in a future article, I have another destination in mind for this also).

Book through their reservations department at 971 4 8329900 or reservation.almaha@luxurycollection.com

I hope you love your Lawrence of Arabia moment!



Can't make it to Dubai but want a piece of this experience anyway? Camel-milk chocolate. And why not? Some claim great health benefits. Camel milk imports from outside the EU and USA aren't allowed in but this Ramona, CA based camel farm offers it.
www.cameldairy.com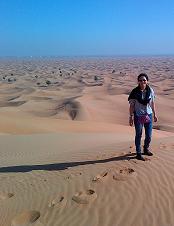 ~above~ It's a long walk home.
All rights reserved. Image copyright Syl Tang.