This Month's HipBites

Clam Picking in The Algarve

I'm one of those odd NYC birds that cooks. Ask me about my Thanksgiving turkey. But shellfish is something that has always baffled me. So when I discovered you could dig for your own clams - and learn how to make 5-star dishes from them in Portugal's stunning Algarve, I had to do it. Here's what I did. And how you can too.
#xoSyl
PS stay tuned for camel riding, ziplining, off-roading adventures...



We rose with the sun (believe me the insanely good pastry box and coffee makes up for it.) Then you head out via boat with the Conrad Algarve chef to Olhão for clam picking, or should we say, clam digging in the Ria Formosa Natural Park. Reason for the hour is that the tides create a limited window of time during the day when you can do this, which means you'll see other clam farmers harvesting. Ask in advance for your size in wellies and bring a poncho as weather can be unpredictable. Ask about the different kinds of clams and what they sell for at the market.

The nature in this highly respected national reserve is breath-taking and watching the sun come up while you're hunting for lunch at the same time, I was torn between taking photos or grabbing clams. When you get back to the hotel, you get to use the industrial-grade, professional hotel kitchens to learn with chef Andrew McGie how to make your catch into dishes. Aprons, big pots, enormous ranges, the whole deal.

I liked that I got to make the Conrad Algarve's famous Ria Formosa spaghetti clams. Just us and the chef so I learned rapidly how to make a couple of amazing dishes out of simple ingredients. (Your friends are going to be so impressed.)

Perhaps the best is this experience is a steal. The excursion, the lesson, the meal is € 115 per person, minimum 2 people – includes lunch and a glass of wine.

Though this adventure alone is worth it, this spot, the first Conrad hotel in Europe, has a lot more to offer. It's 5-star service with no attitude. 154 guestrooms, all with private balconies and views of the natural beauty of the surrounding land, a stunning infinity pool, Heinz Beck's super creative restaurant Gusto. It is also close to 29 Algarve golf courses, and the vineyard Quinta dos Vales, a must with their spectacular animal park and extensive sculpture garden.

Book the clams excursion by calling +351 289 350 700, at the hotel or via Conrad Concierge App.
www.conradalgarve.com

Enjoy your farm-to-table moment!



Can't make it to Portugal but want a piece of this experience anyway? Portugal is known for their cork production and Pelcor makes extremely fun, very cool chocolate-coloured bags. I have a clutch which always gets compliments.
www.pelcorusa.com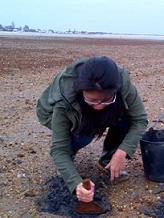 ~above~ That's me securing lunch.
All rights reserved. Image copyright Syl Tang.

Recipe for Ameijoas a Bulhão pato
This is one of the dishes I made.

Clams 500g
Olive oil 80 ml
Sliced garlic 10g
White wine 40 ml
Chopped cilantro/fresh coriander
Lemon
Pepper
Heat up the oil, add garlic and clams to a pan with a lid. Fry for a few seconds, add the wine and cover till the clams are cooked. Add chopped cilantro and a squeeze of lemon.