This Week's HipBites

Viaggio in Italia

Last year I became obsessed with finally doing one of my lifelong goals: to learn Italiano. So this summer I am going to be practicing 'quanto costa le fragole' live. But rather than just eat my way through, I thought a wee culture was in order (yes, our usual hot openings are also at bottom.) Here below are four fabulous reasons to get there this summer. ~Syl

SEE
The Palio Horserace in Siena
June 29-July 2, August 13-16.
Culminating every year on July 2 and August 16, Il Palio takes place at the Piazza del Campo. Sienaís 17 city wards (contrade) enter a horse and jockey and ten take place in the final race. Known as "the world's craziest horse raceĒ, it was originally done to celebrate the reported apparition of the Virgin Mary near the old houses that belonged to Provenzano Salvani. But really a secular Tuscan tradition, itís a superbly fun time to be in Siena and see medieval costumes and try out the local culture or at least Michelin star chef Michele Sorrentino's cooking at Antica Trattoria Botteganova (which is at Strada Chiantigiana, 29.)

Capri and Sorrento for music
June-September
One can do a summer of music in Capri and Sorrento, literally. From June-August, thereís the annual Summer Sunset Concert Series in Capri. Then not so far away, between the gulf of Naples in the north and Salerno in the south, you can go to Sorrento for their festival which takes place in the cloisters of the monastery of Saint Francis from July-September. In past years, musicians whoíve played included pianists Vincenzo Vitale, Sandro De Palma, Viktoriya Yermolyeva, and Francesco Nicolosi; and saxophonist Federico Mondelci. I think the best way is Naples Capodichino International Airport (NAP) which is northwest of Amalfi, then you go via hydrofoil from Naples to Sorrento. Also then you can pop into Da Paolino, made famous by their ravioli and the celebs who come in to eat them! (They're at Via Palazzo a Mare, 11.)

Umbria Jazz Festival in Perugia
July
If youíd rather listen to jazz Ė and you want more of a scene, then perhaps the Umbria Jazz Festival in Perugia will grab your knickers. Itís been held since 1973; this year itís July 6-15 and theyíre expecting everyone from Al Jarreau to Keith Jarrett to Sly and the Family Stone (yes, we know thatís not exactly jazz.) Tickets go on sale April 19th and I'd advise buying right away as itís a big sellout.

The 53rd annual Puccini Opera Festival
July-August
In Tuscany, from July 20 to August 19, theyíll be showing the classics of Giacomo Puccini. This year it will be Madama Butterfly, La Boheme, Tosca and La Rondine out in the open air, right on the water of Torre del Lago, which is just a few paces from Villa Mausoleum where Puccini lived and worked. It's between Lake Massaciuccoli and the Tyrrhenian Sea, four kilometres from the beaches of Viareggio on the Tuscan Riviera, so itís absolutely stunning plus Pavarotti, Carreras and Placido Domingo have all sung there in past years.

If you just canít wait till then, you can also go for the Italian Antique Exhibition, that begins the end of next week through the 1st May and is in Todi. Or if you can't get there this summer, we'd also recommend Eurochocolate, which takes place the second half of October in Perugia or there is the Italian Wine festival in Torgiano the last weekend of November.

TO STAY
There's lots of places but one of the best ways is to rent a villa. You can do this through Wimco quite reliably at www.wimco.com. They're great with spots where rustic living is so much better than being stuck in a hotel.

LEARNING ITALIAN
I think this is the best CD series on the market in terms of Italian lessons. I happen to believe in understanding the root of the language not just memorising phrases and this is one I've actually used.
Ultimate Italian Beginner-Intermediate (CD/Book)

COOKING ITALIAN
Last year my Dad heard on NPR that the Silver Spoon was the Italian cookbook. So I got it for him. While it's more like 1000 ways to make a tomato, I really like some of the fish recipes.
The Silver Spoon

TIP
Italy, a member of the EU, does not require visas for citizens of the United States. A valid passport is sufficient for a 90-day stay and don't forget to put your toiletries in a quart-sized clear Ziploc baggie!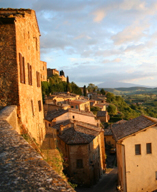 above The gorgeous view from one of Wimco's villas in Montepulciano.



SPONSORED LINK
Click here to see ITALY WILL COST YOU RIGHT NOW