This Week's HipBites

London Calling

What to do with a week in London
(With exception, you can find the reviews for these spots from their openings at HipGuide.com - some addresses are provided below for exceptions)
~ Syl Tang

Friday night
Pangaea. Crowd is absolutely stunning. Party girl Venezualan girlfriend of ours meets some toff named Ben and jumps on the 7 a.m. Eurostar for Paris with him; it's that kind of place. It's also above a very cool restaurant called Fakhreldine (85 Piccadilly, 207 493 3424) which is playing James Blunt's Back to Bedlam on repeat.

Other Friday night options Perenially good for cocktails is Sketch
Another new bar, Camouflage (84 Wardour St) opened on Nov 3rd but jury is still out.
Saturday
Start at Coco Ribbon on Sloane Street for Sass & Bide, Calypso, and Splendid. On King's Road, the LK Bennett outlet is a must. Shoes and boots are 39 and 49 quid. Steinberg & Tolkien the vintage shop is here – they have a dress they claim Jackie O wore on a mannequin. Les Nereides is pricey but colourful French costume jewelry.

Other Saturday shopping options
Dover Street: the shop has just won shop of the year and Paul Smith has just opened a curiousity shop.


The scoop in London is that 24 hour drinking is about to become a reality and smoking will be banned in '06 in places which serve food. Should make the pubs definition of 'food' interesting. We like the Trafalgar on King's Road for a quick drink and Henry Bean's for the game. Habitat, the housewares shop, has guest design items such as a shoe horn from Manolo Blahnik, a lamp by Helena Christensen, wallpaper from Matthew Williamson. Gorgeous. At the end of King's Road is a hot restaurant called Eight Over Eight (same owners as E & O in Notting Hill).

Home House for a drink. Apparently still all the rage. Cocoon for dinner. Was not good until this year when they stole the sushi chef from Zuma AND got their late license. Now the dragon roll and their crack baby shots are all the rage. Greg Wilson is the DJ when we're there and playing The Gorillas and LCD Soundsystem's 'Tribulations'. It's a Julia Stiles and David Schwimmer hangout and Freddie Ljunberg (footballer, Calvin K model) is dining next to us.

At Kabaret, Nick House's party is raucous. Inside it's like a giant Justin Timberlake video with a wall of light bulbs and staff wearing I'm On the Guest List T shirts. The rubber bracelet coat check ticket is so smart. Ask for Shane at the door.

I hear dish that Mint has opened to promoters because they were being too exclusive and now having troubles.

Other Saturday drinking options
Annex Trois bar behind Topshop by the same people as Loungelover. It's on Little Portland.


Sunday
Lunch at the Churchill Arms Thai in Notting Hill. It's a pub on Kensington Church Street with good curries in an indoor garden for 6 quid. Dinner at The Wolseley, a French bistro next to the Ritz which is still posh two years after its opening. Chris Galvin former chef has a new place called Galvin but the soufflé Suisse is still perfect.

Other Sunday dining options
Sunday is all about dim sum and yauatcha- Alan Yau (Hakkasan)'s latest is where to go right now
Monday
Lunch at Mela. London is full of good Indian of course but the creative dishes at Mela make it worth a lunch time stop (152-156 Shaftesbury Ave. 207 836 8635). It's also right near to Office's (shoes) St Martin's Lane outlet which has shoes for 10 quid and boots for 20. The hotel Berkeley (pronounced 'bark-lee') near Harvey Nichs is doing a fashionistas 'pret-a-portea' with cookies named after designers. I like the Dolce & Gabbana white coconut crème and the Galliano lace mint cake (on Wilton Pl.)

Other Monday dining options
Perhaps a good night to try for the super tough res at Maze from Gordon Ramsay
Tuesday
Lunch at Roast on Stoney Street in Borough Market. Iqbal who did Cinema Club in Notting Hill has one of the only nonsmoking restaurants in London, doing extremely fresh British food. Open just three weeks, he buys 25% of his ingredients from right below where the pig farmer, artisanal cheese producer have the best goods. And the fisherman gets fresh fish every morning. I visit 47 Park Street (207 950 5528) which is a fractional ownership Mayfair residence for those who spend at least 20 days in the city every year; it's in the same neighbourhood as The Dorchester off Oxford Street and Park Lane. 47 Park has a reciprocal with the Aspen Ritz Carlton which immediately makes it worthwhile. The publicist there tells me about a fabulous new handbag designer named Pontine Paus then I am off for cheap sushi at the super authentic Ten Ten Tei (56 Brewer St, 207 287 1738).

Other Tuesday dining options
Luciano by Marco Pierre White
My friend Stan Stalnaker is having an awesome party called Jungle Dish at The Hospital, the new members club owned by Eurythmics' Dave Stewart near Carnaby Street (24 Endell St). We drink too much champagne then roll into Boujis. Two years later, the Lucys are still keeping a tight clipboard. They're playing Robbie Williams' Rock DJ.
Wednesday
Back to Carnaby Street, Tesco, the supermarket has been making a big play for the same market that H & M has secured with their Cherokee line. I go check it out and leave with a genius knit doctor's bag. Dinner at Locanda Locatelli. No Madonna in sight sadly but delicious wine list.

Other Wednesday dining options
Dinner at Galvin on Baker St. ex chef from Wolseley in old Alan Yau space.
Also buzzworthy right now in London...

Gil Carvalho - an ex architect who is making short boots (£420) for customers such as Madonna, Kim Cattrall and Kylie. (207 052 9200)
Coming soon is Racine and Entrecote, both steak frites joints.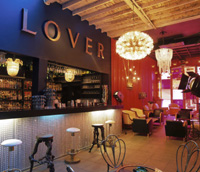 above London hotspot Loungelover at 1 Whitby Street

NEXT HIPBITES
What's Hot Now
followed by our Annual Gift Guide
Publicists - if you have news of a new opening, now's the time to email us.
You may also contact us for info on the topics of upcoming fashion print editorial.

SPONSORED LINK:
James Blunt's Back To Bedlam on Amazon.com