This Week's HipBites
~dedicated email~ a free treatment from skinklinic
You're busy traveling the summer social circuit, which means attending too many events in too little time!
If you caught the July '04 InStyle, you'll know their editors joined us at HipGuide, as well as Vogue, Harper's Bazaar and W Magazine in recommending skinklinic...
From their beautiful New York headquarters to their Las Vegas space in the Mandalay to their luxurious Greenwich location...

Get skinklinic's summer GLOW...in minutes you'll look like you just spent the summer actually relaxing. Receive a free essential treatment and consultation ($150 value).
Our essential treatments (glycolic or microdermabrasion) are the quickest route to immediate glow. Try them on your face, chest, back...wherever you might bare some skin. Get smooth, glowing skin while increasing cell turnover, minimizing pores and fine lines, and promoting the health of your skin.

Don't wait another minute...make the call! 212 521 3100.

mention offer code: HIP/summerFREE. expires 09/06/04. offer valid for first time clients only at the new york location and greenwich locations, Monday between the hours of 1 - 5pm, Tuesday -Friday between the hours of 8 am - 5pm. call for more details. certain other restrictions may apply.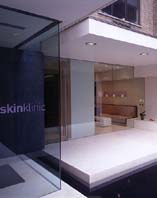 above: the entrance to skinklinic's beautiful new york space

monday 1 - 7, tuesday 11 - 7, wednesday & thursday 8 - 8, friday 8 - 7, saturday 9 - 3 courtyard entrance on 61st street (between 5th & madison avenues) in new york city.

www.skinklinic.com / info@skinklinic.com