This Week's HipBites
Illustrating Madonna
Next time on HipBites TM:
Autumn-Winter Openings - new hot spots
Jeffrey Fulvimari has done so much more than illustrate Madonna's The English Roses, though admittedly it's the kind of project that catapults someone into mega stardom. Our queenbee, Syl, sat down with the man who's worked for David LaChapelle, partnered up with Anna Sui and Louis Vuitton for a Q and A:
(S) I love being one degree from Material Madge. Tell me about working with Madonna
JF: You have to understand that Madonna as much as she would like to be a real person, it's like you are dealing with the Queen of England. She's a huge conglomerate. Not just one person. What I learned from being an ex-showbiz wannabe, is on TV it looks like everyone are chums. Then the show ends, you will never see each other again. There's a line in my friend's Alvin Ailey piece, "touring has a terminal effect on personal relationships." That Madonna's been able to carve out enough normalcy to have a husband and two normal kids, is a super human feat. It was like Close Encounters, like a spaceship landing in my front yard.
(S) How did it come to be?
JF: They tried the glass slipper on every illustrator.
(S) Will you do another book with her?
JF: I'm open to it....... I have fifteen other full scale contracts happening.
(S) Tell us about your Louis Vuitton project
JF: Marc Jacobs was one of the first people to hire me, in 1993 when he was at Perry Ellis. I was a David LaChapelle model. He discovered me at an ATM in '89. He sent out people to look for me in the East Village. He Winnebago'd me to Bear Mountain for a 2 day photo shoot in Interview Magazine. Him, Stephen Sprouse and Anna Sui are the kind of the people who will help you if they see you are down there and you are shiny and talented.
(S) Yes, I remember when Marc was just being discovered - no one knew who he was yet - and I was on the cover of the Times Style section with him. That was a zillion years ago!
JF: Marc hired me to do architectural drawings - the facade of a big department store - what it would look like, the front of the store. It was a big job for me. I was on 14th and B living in a horrible apartment - my own little cardboard box - that's my little violin. Vuitton called me this Fall, I was in Japan. It was a mad rush, and crazy to organise. When you work with big people, most of the job is logistics! It's just two scarves but it's a big deal. They're more rarefied than the bags. I felt like Cecil Beaton! I always wanted to create haute couture scarves. One scarf is with charm bracelets. Depicts a million dollars in jewelry on one scarf.

(S) What did you design for Tori Amos?
JF: Another terrific job. Tori had a book of mine, she was flipping through it and she saw a picture and felt it looked like her. She has an elusive quirky face. It was for a limited edition package of Scarlet's Walk - marking her changing of record companies. Just 200,000. The edition has a string of faux Polaroids and a map - but actually it's a road map of songs. I did stickers for the road map which are images from the songs.
(S) You've done a lot of different mediums.
JF: Yes. I've done murals on Twilo, the lengthwise.
(S) How about Anna Sui?
JF: Anna started to use me regularly to illustrate t shirts. When I started working, the idea of me working for Anna. Wow. I always wanted tickets to her show. Her fashion show is real grandeur. Kind of like Kurt Cobain.
(S) What's the most unusual thing you've had your illustrations on?
JF: A paper anchor for a Chinese wind chime.
(S) I grew up on Avenue C in the 80s when you lived there.
JF: I watched Lady Kier blow up, I watched Chloe Sevigny, I watched Madonna, I'm not a 22 year old. I've seen so many people come to NY and become rock stars. It can be anybody and it can happen in two minutes. "Overnight success" takes 15 years. Madonna was working at routines in high school. Missy Elliott had her concerts in her back yard for hours. It can happen when you're 60.
(S) Immigrant parents like ours want their kids to be doctors, were your parents supportive?
JF: It was a prevalent attitude when I was young; the world has changed. The "right" path got downsized. I want to break that myth. The money is great. Lord knows my father could have used it in 1962 and again in 1972 when there was ten bucks in the bank and he had four kids to feed. I'm from the generation that is like "all my ancestors who slaved in factories, you gave me every opportunity" - I'm Italian that way. But what kind of power am I trying to amass in the world. The power of cartooning?!?!? I just really like to draw.

When I got here, you know one week I ate cake frosting for dinner. I had to spend my money to go to jobs and interviews. I was chasing 9-to-5 at first but I couldn't hold on to [those jobs] because they were so boring. The people in the corner offices is an American dream also, it's still a good dream. But try [what I'm doing] in London. It ain't going to happen. I like fine things but I'm not going to worship them.
You know, Jimmy Paul who works with Steven Meisel? He was the most gorgeous cigarette girl at Pyramid. I told him I wanted to be a waiter at Coffee Shop. He taught me a great lesson. He said "you go to the top. You go to Indochine." I didn't go there, I went to 103, which was then the only cool place in the East Village. Like a ski chalet but OFF kilter. I used to wait on David LaChapelle and Diane Brill. I used to live at Kinkos making little book sets. I gave out postcard sets and one day I happened to be sitting next to the Interview art director, he called me the next day and said draw Julio Iglesias full page portrait. Back then Interview was big, Playboy tracked my number down and people called me the next day. When I wanted to illustrate, I remembered what Jimmy said and I went to Vogue. Then I got Barney's. I was the first illustrator they used. I sent them some of my books with drawings of faces that spun out of my pen like Madonna, Christy, Naomi, Linda and Lady Kier with an Asian spin because I wanted to work in Japan. As a model I never got that kind of attention. If you picked up a camera while you were with David [LaChapelle] , you were out the door, it was like an East Village fascism, he had to be like Andy! ***


IN MY CLIQUE:
Sometimes a gal just can't take any more velvet ropes. I've been shuttling between Dragonbar in the Hamptons and sitting outside at the new Pacific Grill in South Street Seaport reading The Au Pairs. It can get touristy on Pier 17, so last week I brought my headset and discovered the new Earlimart Record. Called Treble and Tremble, I think they're the next Coldplay. On Chris Blackwell's label Palm Pictures, it doesn't hit shops till September 28th - but maybe you'll catch them live....they've been touring with Granddaddy, Elliott Smith and The Walkmen...
~ Love & honey
~ST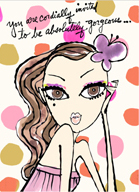 above One of Jeffrey's illustrations

CHECK OUT SOME OF JEFFREY'S FAVE FLICKS:
1. When Simon Doonan and Steven Meisel were roommates, this was our favourite film...
Smashing Time
2. Mike Leigh who discovered Brenda Blethyn, in this film it's the Madame Bovary of the disco era...
Abigail's Party
3. It's the road trip of a chew-counting hippie...
Nuts in May
4. It's Jennifer Saunders (pre Adina - pre AbFab). She makes fun of Bjork, it's great...
French & Saunders Collection
French & Saunders - Living in a Material World

SPONSORED LINK
People often ask how we make money. One of the things we do is help brands find the right amount of celebs, media and influencer attention. So congratulations to our client, IceLix TM on the launch of their ground breaking alcohol ice pops, which come in Long Island Iced Tea, Lemon Drop & Strawberry Margarita!

For more information on HipGuide's business services, please drop us a line at: sales@hipguide.com