This Week's HipBites

The Best Movie You Haven't Seen

One 40 year old boob is a controversy?
Who knew.

If a breast (it's natural! it gives milk!) is obscene, boy will people freak when they get a load of Deborah Kampmeier's film "Virgin".

Filmed with a budget of just $65,000, the movie makes Mel Gibson's The Passion look like an After School Special. Troubled teen Jessie (played by West Wing pres daughter Elisabeth Moss) lives in a hypocritically "religious" community where her Baptist parents preach virginity to Jessie and her sister, but her father smooches his extracurricular girlfriend at the mall.

After Jessie falls prey to small-town hobbies such as drinking and drugs, she wakes up to find herself pregnant. Date-raped at the school dance while she's passed out, she still thinks she's a virgin and confusedly thinks it must be immaculate conception.

In "Virgin", Jessie's community ostracises her, so much so that at one point a high school boy obsessed with her, played by Sam Riley, sexually attacks the visibly pregnant Jessie. However, what starts as torment for Jessie as she thinks she's carrying the next Christ baby, transforms into a sense of pride as she starts to believe there is something special inside her.

Unlike other vehicles discussing religious beliefs however, this is actually a movie about the power of imagination and self, as filmmaker Deborah Kampmeier told us, "It's about the divinity in all of us. About choosing the truth that heals you instead of paralyzes you."

What is amazing to us about this film however, is that the movie itself is evidence in the power of the belief in self. Stars who could command top dollar for features such as Robin Wright Penn, Elisabeth Moss, Sam Riley, Daphne Rubin- Vega all signed on and joined an incredible supporting cast to make this movie on, well, belief that it could be done. A use of trained birds in the film alone was 1/8 of the budget! Written in just 5 weeks, with 3 weeks in pre-production and filmed in 21 days, the potentially controversial "Virgin" has yet to find a major motion picture studio to take it on but already a winner at the Hamptons Film Festival, the movie is poised to be the dark horse of the 2004 Independent Spirit Awards.

Up for two nominations, "Virgin" is the underdog amongst the nominees as it's the only one that has not been released in theatres. Since IFP members have to be able to see it to vote on it, a list of screenings taking place in New York, LA, Miami and Chicago can be found at www.virginthemovie.com.

One hopes that the major movie studios which could pick up the film will see beyond the surface, which could be mistaken as a discussion about faith and Christianity, to the finer points of the film, which has to do with one girl's search for herself and love in all the wrong places.

Deadline for the IFP ballots is February 17th.



HIPTIP
Your Coach logo bag and shoes just not enough? Ubiquitous accessories maker Coach who has a fan in such folks as Jordana Brewster and Molly Sims has released custom Vespas. Partnering with the scooter of choice for those who need fashion in their trips about town, super special Vespas designed with everything from the Coach logo in manly brown to Coach florals in lady-like pink are available by order. Twig- about- town, Lara Flynn Boyle already got hers...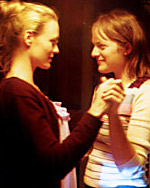 above Robin Wright Penn and Elisabeth Moss in Deborah Kampmeier's film "Virgin"

IFP Calendar

The Independent Spirit Awards will be held Saturday, February 28, 2004.
Check this page and the links on the left sidebar to keep up to date with the latest news, details, and past history of this event.