This Week's HipBites

More Summer Scoops

Drink: Trend Biohazard
The oddest trend we've seen all summer is the use of biohazard containers as margarita drinking cups. "Euuuuwwww" you say? Well, at least it's UN-USED biohazard cups. You know, because condoms were unavailable as a vessel for your mojito.

Eat: Most Anticipated Openings
First Steve Hanson's Fiamma hits Vegas on August 28th. Then Alain Ducasse's second restaurant in NYC, Mix opens on September 8.

Dress: Like The Rock Star You Are
Unisex designer Keanan Duffty is about to become so sought after you might never get him on the horn again. The man we told you did the groundbreaking Barbie and Kens for his runway show is now dressing the Sex Pistols and creating a limited edition collection for David Sylvian (front man for the band Japan back in the early 80s and going back on tour). Don't say we didn't warn you to get a one of a kind Keanan before it's too late...
Keanan's designs are sold at:
NYC: Language and Atrium
Miami: Base
L.A.: Maxfield's
see more at www.slinkyvagabond.com

Collect: Stop and Shop
Traveling store Vacant, which started on Mercer Street and peddles "curated items" that are practically wearable art, such as the Sarah Jessica Parker Nike shoe, arrives in London in August. Done with a successful detour to Portland, time's running out for you to pretend you're going to see art and really splurge instead.
The secret London location and time will be posted one week before the opening on:
www.govacant.com

Roadtrip: Lizzierama
This weekend we drove our SUV into Jean Luc East... Into the parking lot that is... JL, where apparently Mlle. Grubman was spotted the night before us, is this season's fave post Sunset Beach, pre Cabana spot. From oysters to cobb salad, there's a little something for everyone. We loved the banana crepes...
Jean-Luc East
103 Montauk Hwy.
East Hampton
Other '03 picks from us:
Boutique and Resort.

Pack: On The Go Items
The smartest product we've seen this summer is mens' line Nickel's ingenious "Washing Machine". Super efficient, it's a kiwi- based luxurious body and hair wash, it's ideal for those trips where you swim a lot. Formulated to moisturise and restore just enough for guys and girls, it happens to come in a luggage-friendly, sleek plastic "oil can" shaped container. We also snatched up Davines' Fuocco and Comfort Zone's Terra incense sticks to dispel the Eau de Last Guest in our rented villa.

Shop: D-Squared
The root of clothing line D-squared is Dean and Dan Catenís casual sexuality. Fans include Justin, Ricky, Lenny, Madonna (150 pieces for Drowned World), Naomi, and Eve. Inspired by cowboys, celebs on Sabbath, trailer park couture, and a pseudo-utilitarian edge. American dreams, Canadian casual, and Italian detailing produce cargo pants with asymmetrical chunky zippers, uber-low riders, fur vests, and mud-splattered jeans.
NYC
495 Broadway, 8th flr
646 613 8457
Paris
13 rue du Mai
011 33 1 47 03 16 70
Milano
Two SRL via Manuzio 17
39 02 29061668

See: Non Mainstream Flicks
You may have a date with Lara Croft, but the ones you should be seeing are:
Buffalo Soldier
Joaquin (didn't he used to be Leaf?) Phoenix playing military clerk Ray Elwood, a high- stakes arms dealer and a bureaucratic con artist.
Mambo Italiano
Immigrants Maria and Gino (Paul Sorvino) feel their world is shattered when their son, Angelo moves out of their house and in with Angelo's childhood buddy, Nino who is...(gasp) his gay lover.
Pieces of April
21-year-old April Burns (Katie Holmes) must impress her difficult mother Joy (Patricia Clarkson)by cooking Thanksgiving dinner in her dilapidated NYC Lower East Side tenement...without a working oven.

Travel: Sling A Little Mud
We told you Pantelleria would be hot (now it's the destination for celeb honeymoons)... Next is sure to be Vulcanello, Vulcano in Sicily, where natural volcanic muds are yours to rub on yourself for free. The do- it- yourself spa phenomenon is at Porto di Ponente where there is a black sand beach. Go pass the hot springs and sulphurous mud baths that run into the sea, warming it. At Aragona, just a few miles from Agrigento, visit the Maccalube, the mud volcanoes.

Read: The Da Vinci Code
Who cares about that stupid sorcerer kid.
We're over it. Pick up this book about a murder in The Louvre. Everyone whose read it stays up all night to finish it.
The Da Vinci Code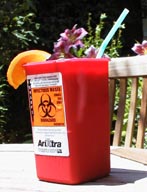 above Weird summer trend, frosty drinks in un-used biohazard cups.