This Week's HipBites

Swimming In Maritime

A goldfish's memory spans only 3 seconds, as though you needed Finding Nemo to tell you, and that may be about the length of our attention for the average trend (!), but one that seems to be sticking around swimmingly is that similarity between sea creatures and humans. Eau la mer, la mer...

1. Stay
Long after we were there for a Marc Jacobs party, Eric Goode (The Park, Area, MK, Bowery) and Sean MacPherson (Jones, Swingers) have finally opened the hotel they've built in the building once occupied by the National Maritime Union of America, The Maritime 303 West 16th Street, NYC, 212 242 4300. Is it any mistake that the celeb loving duo has installed five-foot porthole windows, perfect for celebrity peeping?

Seasick? Stay at The Albion in Miami. The heirs of Studio 54 have designed an ocean liner on land...All aboard. 1650 James Avenue, 866 235 9330.

2. Eat
With beef prices still skyrocketing, Atkins junkies have abandoned the moo for fish-o-rama. Who's got protein? In Los Angeles, The Lobster and Crustacean serve it up to the Spielberg clan and Angie Everheart. 1602 Ocean Avenue, Santa Monica, 310 458 9294; 9646 Little Santa Monica Boulevard, 310 205 8990. With an increase in $4 billion more imported fish in the U.S. in the last decade, the Republic of Cyprus's branzino is coming to you almost in fast food time but fresh! It leaves Sunday and it could be Monday's entree at Sage on Park Avenue in Manhattan.

3. Play
Speaking of. New York has 2 seasons now; Winter and Unbearable Scorching Humidity. So impresarios have moved the sea indoors. Skip the beach and melanoma to check out the 10,000 gallon tank filled with bikini-clad swimmers at Coral Room (complete with seaweed and moss; and frat boys with disposable cameras) 512 West 29th Street, 212 244 1965.

4. Dress
Did somebody pirate the ship before the opening of Pirates of the Caribbean? Fishnet-clad women uptown. Nautical stripes and terry cloth skirts downtown. Catherine Malandrino is debuting her 2004 Resort Collection, fusing sea with city and softening her Parisian rock star clothes with soft pinks, grays, and blues. A washed pink leather vest? Perfect for the urban sea-goer. Our editorial assistant loves the nautical and bamboo ribbon belt from Buzz by Jane Fox ($48; 800 481 2644).

5. Glossing
Ever colourful, M.A.C. has come out with the Aquadisiac collection, a sure-water way to make some waves. Become a bold bathing beauty with eye shadows in Swimming, Pink Venus, and Aquadisiac ($12.50 each). Sex on the beach please?

Corporate event designer Mark Musters also made some waves at the Roxy for the second annual Entertainment Weekly's It List issue with his psychedelic water-themed decor.

If the preppy revolution still hasn't gotten you, Scalamandre's Island Cloth collection prints for your beach house in Mustique, adorned with sea turtles and polka dots, are sure to tow you under. You can fool yourself and the ones around you that you've gone as far as the Galapagos with the so- named print in sky and off white (942 Third Avenue, 212 980 3888). Donatella must have finally left the surgeon's chair because she's getting some of the oceanic feeling too: the La Mer sauceboat by Versace for Rosenthal goes for $385. 800 804 8070.

6. Travel
If you want the real thing, check out our online poll for this year's best vacation spots: Capri, Port Antonio, Cap Ferrat, Moyo, and Malta.

7. Entertain
If the moolah doesn't extend to la mer then put on Stuff Magazine and A/X's Beach Dance CD, light up Comfort Zone's Acqua incense sticks (better for those of the watery signs, Pisces, Scorpio, Cancer; 800 257 7104), read Wet, More Aqua Erotica, sip a Wet cocktail (does alcohol cure scurvy? recipe to the side here) and wait for Johnny Depp to turn up, sword in hand...

THINGS WE KNOW
Other Trends to Check Out

1. British lifestyle
Pick up Trash, the new music and lifestyle magazine from Ministry of Sound and Conde Nast.

2. For Guys
Spike TV, TV just for guys, the networks' answer to WE and Oxygen.

3. Gambling Mania
Not only is new The Borgata casino trying to take Atlantic City upscale, so is Jaqk, a new men's mag hopes to make gambling cool for the Esquire set.

4. Affordable Clothing (shockers)
Ubiquitous-central. Burberry and Marc Jacobs, both are coming out with actually affordable lines. Burberry's is Thomas Burberry and Marc hasn't named his yet. Just save enough change for the Gwen Stefani LeSportsacs (coming in '04) and Eve's Fetish line.

5. More Mod
If it wasn't enough that fashion mags say everyone will be wearing opaque tights in the Fall, check out the relaunch of Mary Quant. If your Mom didn't have a Twiggy wardrobe to hand down, go visit the boutique in Henri Bendel.

6. Regulation Whites
Mariah designing her own golf togs?! We like Bumi Sirotka's tennis whites. And Ralph's new do it yourself Polo bars allow you to choose the colour of your horsey logo.

7. Apple is busy busy busy....
iTunes partnering with labels to sell songs, iPod possibly making a DJ- pro version, engraved iPods, a Beck customised iPod, what ever will they do next.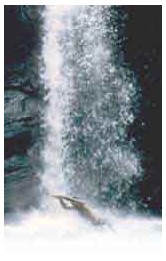 above A waterfall in Port Antonio

The sea comes to you...
WET Blue
1 ¾ oz. WET By Beefeater
1 oz. fresh squeezed lemon juice
½ oz. simple syrup
½ oz. Hiram Walker® Blue Curacao
Large sprig of fresh mint leaves
Sprite or 7UP
1. Pour all ingredients, except Sprite/7UP, into a mixing glass.
2. Add ice.
3. Shake well for 10 seconds.
4. Remove metal part of the shaker and add a splash of Sprite/7UP.
5. Strain into a chilled martini glass.


We've always wanted to be the next Richard Weisman, but figuring out which of your peers and their work is going to be the next Picasso is almost impossible. And once you do, can you afford it? Till we saw Steve Penley's oil paintings at the Anthem Gallery. Robert Mondavi, Whoopi Goldberg and the White House Chief of Staff are all into his work and it is shockingly affordable for a newbie's art budget.