This Week's HipBites

Air Pressure Points

Even if you can think of leisure time, how can one possibly get to the good leisure spots these days when the world political situation has made traveling even more stressful than before? (As if that wasn't bad enough, rumours of American Airlines declaring bankruptcy don't help! After all the "own" the Caribbean!)

Sometimes you can't help it though, you just have to get to that regatta! Or the upcoming Kentucky Oaks. (Yes, it's where the real players go, not the Derby.)

So we rounded up a list of airport spas (massage & beauty spots) where men and women alike can be padded down, well, after you've been padded down.

BOSTON LOGAN AIRPORT Terminal C
PITTSBURGH Concourse A
Polished
Kristin Rhyne's minispa is a bit like what Starbucks is to Barnes & Noble stores. Where you go to chill for a bit. Posh care (massages, Seaweed Mint gel pedicures, facials) in a store within a store. With a spiffy quick checkout.
617 569 7088, Boston
412 472 0470, Pittsburgh

CHICAGO O'HARE Terminal 3
Backrub Hub
Okay, so it's a little bit like those tiny massages offered to you at the nail salon or on the streets (suh-c-ary) of certain cities, but cleaner and the staff are nicer. You didn't have that much time between connections anyway, right?
773 601 0630

NEWARK Terminal C
d_parture spa
You might choose Jersey over JFK just for this place. (We said "might"!) Calming white walls, oak accents, everything from a hair cut for the guy on his way to a meeting to a last minute wax for the gal on her way to St. John. Even paraffin treatments, oxygen aromatherapy. Heaps of products in case you forgot to pack some. Try the Long Haul Reviver leg treatment.
973 242 3444

DETROIT WAYNE McNamara Terminal
OraOxygen
Oxygen lounge treatments, massages and that icky but oh so helpful ear candling treatment. (The flame sucks all the...blech...out of your ear and relieves air cabin pressure.) Truly gross but then you can tell if your first class attendant is saying Dom Perignon or Boeuf aux Champignons.
734 247 4770

DENVER Main Terminal & Concourse B
A Massage Inc.
Owner Anita focuses on how much time you have and names the massage accordingly, The Layover, the First Class. They're the only airport spa with a table massage instead of just chairs. Oh, and they also can trim your locks and clean up your nails.
303 342 7485

SEATTLE TACOMA C Concourse & North Satellite
Massage Bar
How very the Home of Coffee of them to name it like espresso servings. Belly up and get a Single (15 min), Double (30 min) or Triple Shot (duh 45 min) rub down without taking off your clothes. Assembly line, but it does the trick.
206 985 7177

ORLANDO Main Terminal
Profiles
A blow out, massage, basics. Not high class beauty, but then again we don't want to know why you're in Orlando. For last minute primping. When they make you take off those shoes so they can search inside your heel, you'll want your feet to be presentable!
407 825 6485

CHECK OUT
...the newly launched Song Airlines, the new airline from Delta.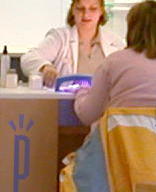 above Kristin Rhyne's sleek spot Polished

POUR
We can't drink cosmos. They're pink sugar on a stick as far as we're concerned. So when we recently had the incredible white grape martini, we had to get the recipe.

Ciroc Grape Martini
Ingredients
3 oz. Ciroc snap frost vodka
2 oz. white grape juice

Serving Instructions
Prepare rim of glass with white grape sugar
Shake with crushed ice
Strain into glass


HIPTIP
We recently went all organic cleaners at HipGuide. We're not crunchy but we know all those cleaning fumes can't be good. Our product of choice? Method.
Pick them up online at www.Methodhome.com