This Week's HipBites

Smashin Fashion

Typical diary entry by us this week:
Fell asleep on the couch for precisely 43 minutes yesterday night in my Bell dress before having to go to Luella Bartley's thing at 9 pm on a f-ing Sunday night.
Drank 5 cranberry juices.
No vodka of course.
Wrote one or two lines of work.
Passed out.
Woke up this morning for an 8 am midtown breakfast with Anya H.

Yes kids it's Fashion Week AGAIN.
(Didn't we just have one?)
Or is it award show time?
Ah hell, let's combine the two.
We bring you the HipGuide Fashion Awards.
(No, the categories won't be the same next season.
In fact, we may or may not do them again so we didn't bother to cast tiny people trophies.)
A little fashion, a whole lotta gossip, some model bashing...

Model Most In Need Of A Twinkie
Dewi Driegen from Elite who looks like she's lost weight. Ack! Auschwitz is not chic!
click to see Dewi's profile

Biggest Fashion Victim at FW
Ex Bachelorette bachelor Russell Woods. You could say the Hilton girls but at least they buy the clothes. Is Russell a buyer? Press? Shopper? Model? No....What do you do Mr. Woods?

Scorching Hot Buy
Tracy Reese's red and pink dress was the buzz of the shows. It's steaming hot.

Worst Collection
Marc Jacobs. Because puke orange didn't even look good on you during grade school.
If you dig in the Times archives you will see that we love Marc. In 96 we were on the cover of the Style section for being at his trunk show when no one knew who he was, but this one collection is just...vomitous.
(p.s. turning away Maggie Gyllenhaal and Famke Janssen from your after party at Blue Smoke doesn't help sell clothes.)
click for Marc's Fall 03 look

Most Innovative Presentation
Keanan Duffty's video clip of dolls in his clothes (Afro barbie, heroin barbie, dreds barbie) to Frankie's Relax, Salt N Pepa Push It and Destiny's Child. Could have been the Tanqueray tonics at 5 pm on an empty stomach but we favoured "bondage barbie".

Worst Party Crasher
Fake Anna Nicole trying to get into Lane Bryant's cabaret show. Good lord, if you're going to be an imposter, wouldn't you at least learn how to get into a party?
click to see the show
click for the scoop on Bogus Anna

Best Neighbour Revenge
The Canadians exist! After years of Canadian pride, fashion legend Jeanne Beker finally gets kudos from heavy hitters such as Suzy Menkes and Andre Leon Talley at FTV's 18th Year Lotus bash.
click for All about Jeanne on FTV

Biggest Snicker
Poor Paris Hilton took to the runway at Alvin Valley's much roasted show (Libby Callaway of the Post questioned how "quilted golf pants" equals "yin and yang".)
click: Suzy Menkes didn't hate it

Best Unveiling during Fashion Week
Gucci's new ad with a boy checking out a girl's lower parts shaved in the classic G. Happy Valentine's!
click: Vogue ran the pic of Carmen Kass and here it is!

Best Place to Stake Out Fashion Week
Lotus which hosted parties for Betsey Johnson, IMG, Zac Posen, Esteban Cortazar, House of Field, Madison Models all in seven short days. Sleeping bag anyone?
click for our review of Lotus

Best Place to Get Away from Bryant Park Tents
Rehab where it's still the 80s in all the right ways.
click for our review of Rehab
Rehab vs. Lotus in A Nightlife Battle?

Embarassing Editorial Faux Pas
What's worse? Mayhem at the door because the IMG private party is listed in the NY Post?
OR
having the listing be screwed up as IMG Model party at Show (instead of at Lotus and 7/6th's Daily at Show Club.) Whoops!
click to see the offending page

Best Product Endorsement
Pat Field for K-Y Liquid. Does Kim Cattrall come with the package?

Worst RSVP
Which B list magazine publisher tried to get into the Lotus Fashion Television Naomi Campbell event using leverage as a Paper Mag columnist, conveniently forgetting he has been hitting on the publicist in question for five years?

Best Revival of Silver Foil from the 60s
Fusha's Moroccan flavoured traffic stopping, silver fringed evening wear.
click: Fusha Fall 03

Worst Name for a Catwalking Supermodel
Mini Anden
Yeah.
Maxi and then what?

Best Use of a Quilt
Custo Barcelona's brilliant finale skirt. Just don't wrap Grandma's creation around your ass in a sad imitation.

Is the Pot Black or Is It the Kettle?
The fashion dir. of Maxim calling the Custo B show "always the same". Gee, there is so much variation in the fashion in their mag.....hmmm, shall it be T & A today or A & T? Oh the choices.

Most Brilliant Marketing
Elle Magazine's Elle Le Taxi where cute struggling actors with awesome bone structure and complimentary madeleines hail taxis for besieged editrices in stilettos right across from the Bryant Park tents at the royal pink carpet. Vive La France!

Favourite Fashion Week Loot
Extreme hair care and Rio player from Redken!

This season we checked out Lane Bryant's Grand Cabaret, Complex Magazine, Esteban Cortazar, Diesel's launch of Devil May Cry 2, opening night of Show, Gen Art, Patrik Rzepski, Pierre- Henri Mattout, Keanan Duffty, Fusha, Marc Jacobs, Luella Bartley, Betsey Johnson, Custo Barcelona, Tracy Reese, Seventh on Sixth launches the Daily at Show, Bill Blass, Nanette Lepore, Dr Martens, Cynthia Rowley, Fashion TV celebrates 18 years with Naomi Campbell at Lotus, Fila and Stuff Magazine, Zac Posen, Redken's bottle launch, and the House of Field show and blowout bash at Lotus.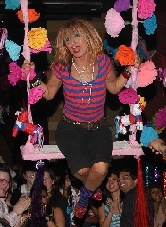 above Betsey Johnson at Lotus
photo: copyright Patrick McMullan. All Rights Reserved.

HIPTIPS
If you are going to go to 5 parties a night like we are at HipGuide, you need to know how to survive. And just like there is favoured nation status, there is favoured product status.

Here are the things that kept us going 8 a.m. to 4 a.m. every day for 10 days. (And no, no one paid us to recommend these.)

1. Redken's Extreme Deep Fuel treatment kept our hair from snapping in the winter wind,
2. Darphin Purifying Balm is the masque we wore every night for clear skin the next day,
3. Korres' Red Vine sun protection spray was sunscreen for our hair while running to and fro Bryant Park,
4. Nickel's Lendemain de Fete is the morning after party creme we used,
5. Drink a crazy amount of Fiji water,
6. Slather on St Ives Collagen and Elasten and Kiss My Face sliced peach with SPF,
7. Finish off with Lancome Twinkle and Juicy Tubes which provide colour in under 5 seconds!



HIPLINK
Self Love This Valentine's Day?
Astro To Go launches their Sexy You service.
check it out at www.astrotogo.com