This Week's HipBites
When Nightlife Impresarios Attack
HipGuide is back after holiday hiatus.
The 1st in another sporadic series: 15 Irreverent Questions For
Dave Rabin (Lotus, V Bar, Union Bar) and Jeffrey Jah (Lotus)
About to open a new lounge across from Lotus in NY, Lotuses in San Paulo, London, Montreal and Paris, and a new spot in Toronto (Jeffrey's project)...
(1) Is there a correct amount of money that works when "palming" the door guy Lotus?
DR: Zero. One time someone offered the doorman $500 and he walked away from him! I won't name names but there's a door guy we see around town whom we fired from Union Bar for charging a fake cover. He's all "Hey!", like nothing ever happened! Our doorman would be fired for taking money.
(2) Is there actually a "list"? Will people on the NY list be automatically on your other "lists"?
JJ: Yes, there's a master list with 15,000 names on it! Half of the people on it don't even know they are. We added people we felt were right who are all over the world, Paris, London, Hong Kong. It's funny because sometimes someone will refuse to give their name to the doorman and then call us and complain. We'll say, did you check to see if you were on the list, you're on the list! DR: The whole thing IS at the door. All the names. People never ask for the list! We're like, Why do you think you get mailers?!?! JJ: It's all about the vibe. If you're 4 guys, you're not going to get in. It disrupts the balance. 4 males = a lot of testosterone! DR: As for elsewhere, the bigger places yes. Across the street, we'll have to winnow it down. All the four partners are going to have a hard debate over the key factors: 1. Long term friendship 2. Fame/influence 3. Spending. Everyone's an editor.... We've been lucky to delay that evolution here. To keep a currentness.
(3) There are three notorious crashers in NY. One of them being Frankenstein? Do your door guys recognise them?
DR: The pale guy! With the high forehead! He's NOT on the list, not allowed in! Once years ago at Nell's I watched a guy I went to law school with show a fake ID, a fake business card that said he worked at Interview Magazine! All to get in!
(4) What's with the $12 drinks?
JJ: (smirks) 3 reasons. Detracts a certain customer. The cost of operating a business. People come in here and they forget that we have a cabaret license, a $24,000 month rent, and we spent a million dollars just making this place really safe. Lastly, Amazing drinks. They're top shelf. DR: I think we're undermarket! That's a top shelf drink. A drink at SubMercer is $15! I had a no-name vodka at the W Hotel and it was $11! I asked the waitress, "doesn't anyone complain?" and she said, "not even the once." We strive not to be the price leader. Keep in mind that we have 10 security guys, 3 manager, 5 overnight cleanup guys etceteras. People think we're rolling in the money! I'm like, "did I give you my pin number and forget!?" We're cheaper than Serafina and Pangaea!
(5) Does your Mom think you're cool?
DR: (snarfs his water) My mom is surprised at what I do. My son sometimes thinks I am. Think about my Mom having her Ivy League lawyer son quit his job, run off to go do a nightclub for the Russian Mafia...we didn't KNOW it was the Russian Mafia! We just thought they were nice businessmen! JJ: She thinks I'm out of my mind!! I'm not cool! I'm just a regular guy trying to make a dollar!!

(6) What do you think of people that get naked at Lotus?
DR: The only person I have heard of getting naked is Harry Morton (Peter's son) and I wasn't sorry to miss that. Sometimes there are girls in here whose dresses seem to be more off than on, but if there's anyone getting naked, I've missed it much to my chagrin. I AM glad I missed the night Amanda Lepore came. It was right when we were at our height of dinner service. Nice meals, $80 checks. And there's this naked transgender right there during your dinner!
(7) What's with the ripped up seats?
JJ: That's from Manolo B and Jimmy C! DR: Readers, puh-lease stop putting Manolo Blahniks on my couches, take off your stilletos before you dance on the furniture and it's not because I have a foot fetish!! .... Nice boots, Syl.
(8) What is the quota on Britney Spears look-alikes?
JJ: (laughs) Zero. DR: Last week I was running down the stairs, I passed what I thought was a Britney lookalike, in a leather hat and halter and then the next day, there she was in the paper in the same outfit. And I thought sh*t that was Britney! We get more James Bond looking chicks.
(9) How much s*x really goes on in the bathrooms?
JJ: Zero. (Right, Jeffrey...)
(10) How many claims have there been from people falling down the poorly lit staircases?
DR: Three or four. One of the guys in Oz jumped down eight stairs, he split his head open, but he was cool about it. He knew it was his own fault! JJ: I do have about 500 lost cell phones downstairs. Probably ones from two years ago!
(11) Although we've never paid it, we're told you charge cover. Why is this when other popular places around the corner even, say APT, do not?
JJ: Well, we have a cabaret license, and we've really done a lot to make this place good for people. We spent a milllion on everything from the egresses to licenses for public assembly. We import world class DJs, such as Pete Tong, or Stephane Pompougnac whom you like, and it's small in here. These are guys who play massive places and people can hear them here for free. Only about 15% of the crowd pays to come in every night.

(12) Who is Mark Baker (3rd Lotus partner, notorious modeliser) dating?
JJ: Mark has been dating the same girl Vicky for about 1.5 years. He's crazy about her. DR: Vicky. To all of our shock. Hey, a real girlfriend. It's not good for business. Will (Regan, 4th partner, Iman's ex) gets married and starts staying home and watching sitcoms and I'm like "Thanks a lot guy, you're supposed to be out dating supermodels not watching Everybody Loves Raymond!"
(13) Steve Hanson in a NY Mag article (9/19/94) said that working with Will (Regan) and yourself, Dave, could be "too trendy" making him "a flash in the pan"; thoughts?
DR: Wow, he said that? Luckily Steve and I are good friends and our kids, at 2 years old are boyfriend and girlfriend. We've had Union Bar for 8 years, Lotus for 3. I love eating in Steve's restaurants. He just did the sushi for our staff holiday party! But seriously, back then it was a reasonable concern. You remember, we only had Rex for two years. We were white hot and then it was not.
(14) In that same article Mark (Baker) was criticised for "working" the Coffee Shop. Which competitive places do you visit and what's your favourite non Lotus club?
JJ: Oooo. Such a political question! ...Maxfish... Also The Park. Is that a club? DR: I've been banned from all places for my views on cabaret laws!!! But prior? Bungalow 8, Butter. I'm not big on Pangaea. ha ha. I was already persona non grata! JJ: One can go from b'lo to Powder to Rehab. Now there's a circuit. DR: Luckily I have no beef with any restaurants because I love restaurants! At the age of 41, I've slowed down a bit! I like Temple Bar... the Redwood Room in San Francisco. Design-wise: Balboa in The Grafton in L.A. If my wife would let me go there...
(15) Let's discuss the new lounge on 14th Street.
JJ: It will be open from 6 pm to 4 am. It's a bar/lounge that fits only 150 people and is for an ultra trendy, downtown, older crowd. It's a crowd that doesn't want to dance, where conversation is the forefront. Where the music is less progressive. There won't be banging hip-hop, but rock and electroclash instead. It's for after work drinks. After they've had too much of the whole scene at Lotus! I also have a separate project on Queen Street in Toronto where I am a minority owner. It's in the old place where Bamboo was. Owned by this guy Charles who owns the biggest club in North America: Government. Rio is to San Paulo like the Hamptons are to Manhattan. Fittingly Lotus in San Paulo is on Avenue of the Americas! DR: Across the street, we'll open mid-late Spring. San Paulo, Fall 03, maybe June. London is still an infant. Infancy stages. Montreal no date. Ditto Paris.
NEXT TIME:
Nicolas Matar of Cielo & Pacha

NEW YEAR'S HIPTIP
HOW TO OPEN CHAMPAGNE PROPERLY
Hold the bottle between your legs, wrapped in a towel, cork facing away from you and pointing at no one. Grasp the cork firmly and twist just the bottle till the cork is released.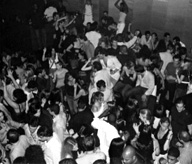 above
The scene at Lotus, viewed from the balcony area
HIPFLICK
Going to SUNDANCE?
Check out Danish flick OPEN HEARTS. Susanne Bier's Dogme film about what happens when two families lives collide will change your feelings on guilt, blame, destiny and driving.

HIPZIP
Watch out for SWATCH BIJOUX
The watchmaker, also owner of Longines, Rado, Piguet, it turns out makes a super sleek, chic line of jewelry priced for play at $25-100.