This Week's HipBites

Coulda Been A Contender

Having a quarter life crisis?
You think you should have been a star?
And not just in your own mind?
But Gwyneth Brit Shaq famous?

We got a lot of chatter from those of you not-musically inclined after our Diesel music competition asking us how else you could make the Big Time...Everyone worth their Darphin cream knows about the Elite Model Look but here are some other paths to fame you don't know about... Other than buggin Puffy at Lotus to look at your mugs...

You'll forgive Kevin Spacey the KPax fiasco when you find out that his site www.triggerstreet.com accepts screenplays from any old Joe or Jill Schmoe who wants to be a filmmaker. He's not guaranteeing that it will get produced, but it's not one of those scam sites, there's no fee to submit, it takes out the need for you to go get an agent or manager AND the award winning actor promises to show submissions to Hollywood heavies such as Annette Benning and Sean Penn. ...CAA and ICM must be fuming.

Robin Williams and Chris Rock did it. Check out http://www.standupny.com/doyou.htm What they describe may sound like an open mike night but look! It's actual people paying attention! Instead of cardboard cutouts or a bum who had no other place to warm up on a Sunday night.

Or if music, comedy, modeling AND films aren't your thing. You're the more literary sort, form your own publishing company. Heather Holland Wheaton's tiny tome of chic NY stories took off when her friend bought ISBNs. Rumour has it Stella McCartney bought a stack. Check out her Eight Million Stories in a New York Minute and then publish yourself. ISBN.org

HIPBUZZ
Ten things all those in the hipset know about:
1. Diesel's next round of Pocko books
2. the reopening of Limelight (NYC) as Estate
3. the T8 restaurant in Shanghai
4. Groove Armada's forthcoming CD
5. traveling via a Vespa ET2
6. renting Nukubati, Namale or Wakaya in Fiji
7. designers Proenza Schouler
8. YSL's new verbotten nude man ad
9. upcoming Bond film on the 22nd
10. Naomi Campbell's event company NC Connect.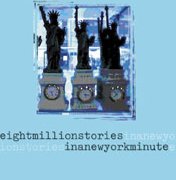 above
Heather Holland Wheaton's self orchestrated rise to publishing fame.
HIPLINK
http://www.e-sheep.com/apocamon/
an electric sheep comic.
what more is there to say.