This Week's HipBites

Music Sounds Better with Charles

If we hear that stupid song in the car commercial once again, we'll tear the hair off our arms.
Yo Vegas, the ONLY day that hasn't gone by is your day as a VH1 One Hit Wonder!

Which is why when we heard DJ Charles Schillings, we decided, it is all about his CD "It's About".

Funny what great coasters our Chemical Brothers and Armand Van Helden CDs make now that Papas Got A Brand New Disc.

Charles' CD will be slightly familiar.
* "Don't Rock It" was the tune playing when Charlotte changed the nameplate on her mailbox post-Trey (if you watch Sunday HBO).
* It's Charles' sound at Karl Lagerfeld's A list parties at VIP in Paris. His beat on Lagerfeld's runway shows.
* Him again scoring the Yves Saint Laurent Jazz perfume ad.
* He's also the mastermind behind the "day-time" CD in the Elite Model Look double CD compilation being released in early October, just after the contest finishes in Tunis.

His new CD "It's About" is not perfect. We're not really sure what happened on Track 4 which features some bad rap-wannabe line about "chillin' with my man Charles Schilling out here in Paris." Oy! BUT we'll give him the one bad tune cause Tracks 3 and 5, "Tengo Nada" and "Don't Rock It" are unreal.

We know you secretly listen to .38 Special but save room on your shelf for Charles 'cause 3 lucky HipGuide readers will win a copy of Charles' CD "It's About".(randomly drawn next week). Charles' web site stinks cause it has no samples, so if you aren't 1 of the lucky 3, you're just going to have to take our word for it and pick it up:

Charles' CD on Amazon

The shows. Calvin Klein. Louis Vuitton. Armani. Chopard. The clubs. Lotus in NYC. Fuse and Cafe d'Anvers in Belgium. Queen, Folies Pigalle and Les Bains in Paris. The beats. Chicago house. Electronic funk. NY garage. Hip-hop. Spanish. Funk. Jazz. S'all Charles!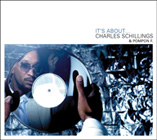 (above) Karl Lagerfeld's art is the cover of DJ Charles Schillings' CD It's About
An UNHIP FRIEND killin your mojo? Get them to SIGN UP FOR HipBites
Desperately in need of tips on how to be hip? Ask us. Drop us a line at ASK The HIP
NOT-SO-HIPLINK:
So your tooshie will smell good. We're SURE it's NOT FDA approved.

HIPLINK:
E is for Eviction, boys and girls!
Yup.
Who knew that Ciccone translated means "fat man". These folks did. Check out the ridiculously hilarious ABCs by these Madonna fans. Madonnapolis.com