This Week's HipBites

10 Reasons Why Celebs Smell Good in August

94 degrees in the shade and it's not the name of a new boy band!

It's that old line, "Aren't you glad you used Dial, don't you wish everyone did?"
Besides the smell of new money, there are other scent-a-licious things guys and gals can rub on oneself so as to be pleasing to one's fans and public at large.

1. Laura Mercier's Honey Bath in Creme Brulee
Yes, it's revolting to drink your bath water! Do not do it! But you'll want to when you smell Laura's cream caramel smelling wash ($40). There's a reason this woman's fan following includes SJP, Aerosmith scion Liv, and Heather Locklear. A hint of peony. Yum, yum. Track it down at 888 Mercier, Saks, Space NK (London), Joyce (Hong Kong), Holt Renfrew (Canada)

2. Maitre Parfumeur et Gantier's Tubereuse
Jean Francois Laporte, the nose who created for L'Artisan Parfumeur, has an even more exclusive line. Tubereuse ($150 much less than airfare to France) has been picked up by Halle Berry. Even La Lopez has been caught wearing it.Um, don't you have your own scent, Jennifer? At Bergdorf Goodman & Aedes de Venustas (NY), Nordstrom (LA), Hotel Nikko (SF), Louis Boston, or 877 348 6444

3. Les Elixirs' L'Orange Douce foam bath
The fresh of France. Whether it's the Algues (seaweed) soap ($5) packaged like a giant bon-bon or the L'Orange Douce (sweet orange for you neophytes) Foam Bath ($18), it's perfect for La Vie Douce. Soft skin, easy living. The magic number is 800 884 5944 or Les Elixirs online

4. Marc Jacobs Men
Figs. Recently at a party at the NYC Fire Museum, we ate all the fresh figs in candy dishes laying out for guests. Who knows, if you pick up Marc Jacobs Men, subtle, mildly spicy and oh so interesting, maybe we'll just want to do the same thing to you. Marc Jacobs shops in September.

5. Garren New York hair fragrance
Speaking of figs. Out all night in a smoky bar and scared to let your hair do the Walk of Shame? Unisex perfume for your hair. Leave it to the stylist who's tressed Kim Cattrall and Linda Evangelista. Spray it on from Garren on Sephora

6. child perfume
Is there something wrong with grown women luring grown men with a scent called "child"? Get your mind out of the gutter! It's undeniable and it's so yummy. Jennie Garth. Madonna. Sigourney Weaver. Leann Rimes. It flies off the shelf at Fred Segal's Apothia (LA), Henri Bendel (NY), Avant (Dallas), E6 (Boston).

7. That Glow's refresher spray
Speaking of babies. The accessory of 2002. If you've succumbed to popping a little one a la Elizabeth Hurley or Jada Pinkett Smith, maybe you don't think you have time to smell like anything but Huggies Wipes? But refresher ($18) does dual duty, giving Hurley and Pinkett Smith that extra boost only a facial mist can. At Nordstrom or That Glow.

8. Laila deodorant
You may not remember the Cheers where Woody's girlfriend washed her hair in essence of Norwegian wildflowers, but we do. Geir Ness' cult line has the best smelling deodorant we've ever sniffed. Norwegian wildflowers and herbs. No kidding. Sniff at Nordstrom's or Laila at Sephora

9. Molton Brown handwash
If you've washed your hands at NY's Cellar Bar in The Bryant Park Hotel, you know this smell. Grapefruity. Orangey. Clean, clean, clean. Mr and Mrs Fatboy Slim's household favourite. Suds it up from E6 (Boston)

10. mat; perfume
Bamboo. Mango pulp. Parsley leaves. "Only those allowed close enough shall experience her scent." So true considering Madonna has picked it up. Or perhaps it helped lead to leniency from the boys in blue on the part of Winona Ryder when they, ahem, caught her wearing it? ($60) A steal (groan) at Jeffreys (NY) and mat; at Sephora.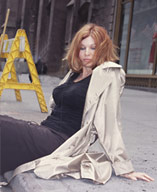 child perfume founder Susan Owens (pictured above)
HIPSET WINNERS: Congratulations! to Lisa Springsteel & Elisa Feola, the 2 other winners of the Toby Young Giveaway!
Congratulations! to Pete Feinstein, the winner of the Coach beach tote & towel!

HIPLINK:
It's all about our looks this week!
Avon's new service In A Wink ($50) applies false eyelashes for you that last 2 weeks. Touch ups avail too! This is a trend in case you haven't seen Prescriptives mascara "False Eyelashes" and M.A.C.'s panorama of falsies.