This Week's HipBites

The Age of Failure and Low Depths

Age of Failure: Toby Young
It used to be that those who failed skulked away only to become a VH1 Where Are They Now. No such future for Toby Young, the freelance writer whose misadventures included telling former boss Vanity Fair head honcho Graydon Carter off and doing lines of coke at fashion shoots in front of shutterbug David LaChapelle. It seems to be that these days, if you fail miserably, you get a movie deal and a party celebrating your U.S. book launch thrown by Playboy. Complete with bunnies! When we asked Toby about failure, he said "When I was finished in NY, no one wanted to know my name, but now that I'm really finished - finished with a capital punishment - the phone won't stop ringing. People seem fascinated by the idea of failure. I think it's hot right now. Just today I got a call from Martha Stewart. 'I hear you can't get arrested in this town,' she said. 'Tell me everything you know!" Well, we were going to ask Toby if he was planning to pose in the buff with bunnies but if you checked out this week's Observer, the bare - it - all for literature author has already done just that!

Five HipSet members who receive this email directly will be picked to win complimentary, autographed copies of the infamous tome but for those not so lucky, you can also pick up a copy of Toby's now avail in the U.S. book Toby's book on Amazon or on Barnes & Noble

Low Depths: Sass and Bide
While other fashionable are contentedly resting on their Sevens, Paper Denim and Cloths, and Miss Sixties, step ahead of the crowd with Sass and Bide, the sexy new Australian label known for its signature ultra low rise jeans. Sarah Jessica Parker, Kylie Minogue, and Victoria Beckham are already fans of the line by Heidi Middleton and Sarah - Jane Clarke, which features creative denim styles in miniskirts and corset tops in addition to their trademark jeans. Sex and the City stylist Rebecca Weinberg was so impressed with the designers that when she visited them Down Under, she reportedly bought almost their entire collection. If you're not planning on making the trip to Australia soon, you can also find Sass and Bide at Barneys and online at Brown's Fashion.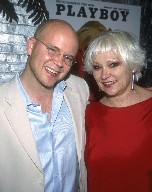 Toby Young and Serena Bass at Serena's for the Playboy party.
Photography courtesy of Patrick McMullan and Gotham PR

HIPSET WINNER: Congratulations! to TODD FARHA, winner of the Entertainment Weeky IT 100 goody bag!

HIPLINK:
Jamie Lynn Sigler has a signature gloss. As does supermodel Ines Rivero. And so do we. What's it like to have a gloss named for you? Check out Jamie Lynn's, Ines' and ours here.