This Week's HipBites

Having A Steak in It All

Maybe it's a reaction to the Asian and Latin restaurant waves creating an overabundance of uncooked fish - when was the last time you saw a menu that didn't include sushi or ceviche - or maybe its thanks to Dr. Atkins, but whatever the reason: Mad cow is over. Steak is back. The hottest steakhouses all over are sleeker, newer versions of the old boys' club tradition, so celebrate summer with a return to the roots of all - American red meat.

In Manhattan at the Strip House, appreciate the not - so - subtle irony of word play as you enjoy your New York strip steak while admiring the red, stripper - themed decor in which even the napkins feature images of naked women. Renee Zellweger, Ed Burns, and Rose McGowan have been spotted here of late. Strip House, 13 East 12th Street, 212 328 0000. Another David Rockwell designed playground is Michael Jordan's Steakhouse. Although located in unfortunately touristy Grand Central, you can be secluded away from the masses with the basketball god's impressive wine salon at the communal table for 20 people. Michael Jordan's Steakhouse, 23 Vanderbilt Avenue, 212 655 2300. Stop by either Strip House or Michael Jordan's with a printout of this email and through 9-30-02, HipGuide readers will receive a free side dish with purchase of an entree. Incidentally new decor by Strip House and Michael Jordan's designer David Rockwell can also be seen at just opened restaurant Django.

The nudity theme continues down in South Beach Miami, where it'll take some energy to concentrate on the food and cocktails found at Kiss, what with scantily clad dancers performing in front of you while you eat. The sexy steak place features dance music and black lights, with live fire shows. Between the entertainment and the food, Kiss appears to be all about carnal desires. Kiss Steakhouse and Lounge, 301 Lincoln Road, 305 695 4445. (Just remember that Kiss is open only Wednesdays through Saturdays during the summer.) On the other coast, Lee Maen and his partners, of Sushi Roku fame, host L.A.'s picky eaters at stylish Balboa pictured on the right. Create your own steak by choosing among a variety of sauces and rubs. A retro design and a menu that also has duck, sea bass and a side of mac and cheese makes the red meat joint a destination even in the healthy eating mecca of SoCal. Show them this email to let them know that you're one of the select group to be included in their Sunday Wine Lovers' Night, and pay half price for any bottle of wine. Balboa at The Grafton Hotel, 8462 West Sunset Boulevard, 323 654 4600.

HIPTIP: The roofdeck at A60 at 60 Thompson, the hotel in NYC, is so exclusive you have to be one of the lucky few with a members only key card. We're fond of Pablo from *Wallpaper's Wednesday soiree Mingle where your chances of finding a fashion industry cutie to salve your velvet rope burns are pretty good. NEXT WEEK Ines Rivero's gloss, the Australian jean label much hotter than Seven, and a chef tasting just for you.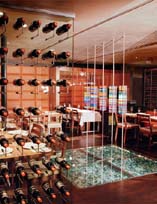 THIS WEEK'S HIPDIGITS: The only living thing in the Dead Sea is Dunaliella seaweed. Their coveted line of spa products can now be yours at 866 4 DEAD SEA

THIS WEEK'S HIPLINK: Online shop Net a Porter is the runways curated for you. Hard to find or exclusives from Marc Jacobs and Chloe make the clicking worthwhile.